KAYO MINIGP CUP 2021 - REGISTER INTEREST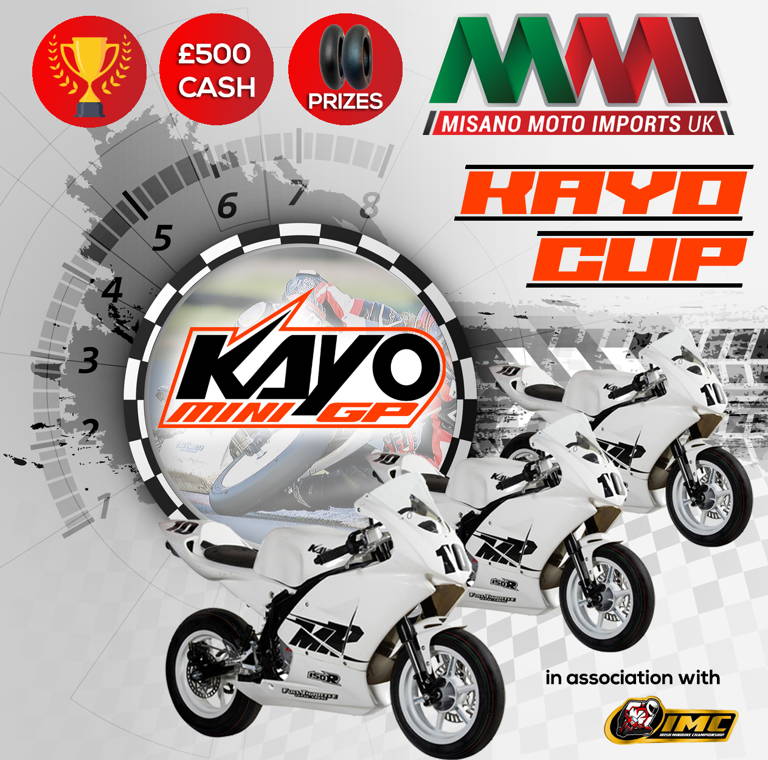 The Kayo cup championship will be run in conjunction with the Irish Minibike Championship Series and points will be scored separately by Misano Moto Imports with a very exciting format soon to be announced.
Kayo Cup ( Senior Stock 140 class) Cash Prize Fund totaling £500 (awarded at end of the championship). The Kayo MR150, 5 Speed Mini GP machine competes in the Senior 140 Stock class.
• Minimum of 5 race entries per rider required over season
We are lucky enough to have some great sponsors and support from different businesses which we will highlight over the race season!
Prizes on race day (For some events prizes will be available, the prize will be announced on the lead up to race weekend)
• PMT Tyres
• Parts and merchandise!
IMC Series starts on Sunday 11th July@ Nutts Corner; Non-Championship; King of the Corner event.
2021 Championship Race Meetings;

Rd 1Kirkistown 17th July
Rds2/3; Kartworld 31July/1 August
Rd 4 Athboy 28 August
Rd 5 Nutts Corner 26 September
Rds 6&7; Nutts Corner 30/31 October
All Competitors must be a member of the IMC
Club Membership & Entries etc, ALL online payments.
Payments must be made when entering.
Notification of Race Entries for races will be posted on the Irish Minibike Championship FB pages.